StarCAD Standard is designed for creating and editing DWG/DXF drawings, with full support for 3D design. Our application works with drawings created in AutoCAD® and is capable of saving files in DXF and DWG formats. AutoCAD® drawings up to the version 2009 are supported.

Using StarCAD Standard is straightforward and intuitive, no advanced knowledge of CAD systems is required. The application is intended for customers who need a tool for easy creation and edition of drawings.

StarCAD Standard allows viewing drawings with ACIS geometry (SAT and SAB formats). Our application is also able to open drawings in SVG format (beta).
Basic view functions:

10 predefined views, 6 shading modes.
Orthogonal mode and perspective mode.
View functions: 3D orbit, 8 zoom modes, 6 pan modes.
View history.
Advanced management of modelspace and paperspace viewports.
Support of ACIS objects.
Rendering texts with TTF and SHX fonts.
High rendering performance with OpenGL technology.
Object creation and modification
StarCAD Standard allows the creation and modification of many types of geometrical objects. Supported types include lines, arcs, circles, ellipses and elliptical arcs, texts, inserts, hatches and many more. The snapping feature allows very precise positioning of objects.

Objects can be freely modified using the property window that allows changes to be made in geometry and all parameters controlling the appearance, position or style.

All operations can be easily accessed through icons in the main window of the application, menus or console commands.
Blocks and external references
StarCAD Standard allows creating blocks - groups of objects. This simplifies the managing of a drawing, because block references (inserts) can be modified as single objects. Another useful property of blocks is that objects in the block don't loose their own properties (color, line type, etc.).
External references (xrefs) allow attaching drawings from external locations to your own drawing. All changes made in the attached drawings are immediately visible in the main drawing. The number of this type of references added in the drawing is unlimited.
All objects have universal operations, which allow changes to be made in their geometry. Supported operations are: moving (translation), rotation, scale or mirror. Additionally, many object types support operations like offset, trim, extend and lengthen.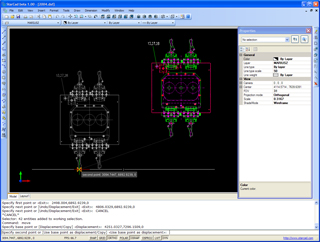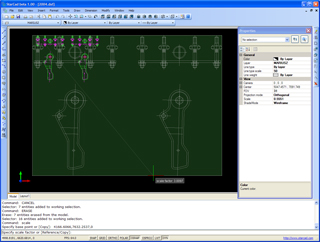 The manufacturer of StarCAD software makes every effort to ensure 100% compatibility with the drawings created with other CAD systems. Currently we support DWG and DXF files up to the version saved by AutoCAD® 2009. Our registered customers can report incompatibilities through the technical support form.
Together with StarCAD Standard application comes the basic set of SHX fonts, which is sufficient to display most drawings properly. Some DWG/DXF files may, however, require some additional fonts, specific to the CAD system they were created with. Installation of additional fonts is very simple, details can be found in the help file of the application.
StarCAD Standard is available for download (free of charge) as 30-days trial version. The trial version has no functional limitations. There are no restrictions for distributing or testing the trial version, but commercial use of the trial version is not allowed.
Customers interested in commercial use of the application should purchase a commercial license for StarCad Standard. The licenses are issued according to the current commercial offer of the manufacturer.
System and hardware requirements
StarCad Standard application is designed for PC platform, Microsoft Windows® family of operating systems.
Supported OS versions: Windows® 2000/XP/Vista. The software may be used on 64-bit platforms.
Pentium® III 500MHz class or better CPU.
25MB of free hard disk space.
256MB of RAM. To work with extensive drawings 512MB or more is recommended.
Note: the software requires .NET Framework, version 2.0. The framework is free of charge. If the computer on which the software is to be installed lacks the framework, it will be automatically downloaded from Microsoft and set up during the installation process.
Microsoft, Windows and Windows Vista are either registered trademarks or trademarks of Microsoft Corporation in the United States and/or other countries.
Pentium is either a registered trademark or a trademark of Intel Corporation in the United States and/or other countries.
AutoCAD is either a registered trademark or a trademark of Autodesk, Inc. in the United States and/or other countries.